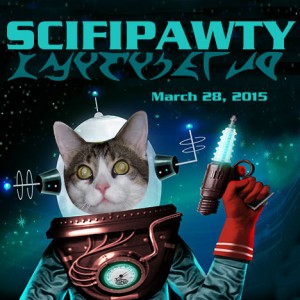 This is our sixth year of helping animals and having fun here at SCIFIpawty. We are gearing up to have another great event this year and hope you can all join us in the fun and of course donate what you can to help the cats at One By One Cat Rescue.
Once again we will be booking our favorite bunny chef @ZACKRABBIT to give us a #SCIFIpawty edition of #CookingwifRabbits and hope to have a return visit from the #PAWFLEET group hosting a panel or two as well. Plus we hope to have special editions of both #CAYKCLUB and #KEEPFITS. Stay tuned for more information.
Donation Page is up now: https://www.firstgiving.com/fundraiser/human2/2015scifipawty
What is SCIFIpawty? Quite simply, SCIFIpawty is the first and only virtual science fiction convention & party hosted by animals for animals on Twitter.com. There are DJs spinning our favorite tunes, bartenders offering up out of this world food & drinks (virtually of course), security (red shirts) to keep the spammers and scammers away, a costume contest, and quizmasters tasking us with fast paced, fun trivia with a chance to win door prizes. All this is achieved through the help of many wonderful volunteers and sponsors.
This event is used to raise awareness of animals in shelters, the need for adoption/rescue as well as raising much needed funds. Last year our event was able to raise over $1579 for the One By One Cat Rescue (This year let's shoot for $2000). In the past 6 years we have raised over $11k for animal rescues (this number includes our annual Walk for the Animals campaigns too). THANK YOU SO VERY MUCH.
The 2015 6th Annual SCIFpawty proceeds will once again benefit One By One Cat Rescue in Temple, PA a no-kill, non-profit organization.
Our past prize/auction sponsors included: Jane Wiedlin (the Go-Gos, Star Trek), Adrienne Barbeau (Creepshow, Swamp Thing, The Fog), ThinkGeek.com, PerpetualKid.com, Roommates Décor, Mimoco, 1Up Collectibles, Nylabone, Bissell, DogToys.com, CatToys.com, ScifiSlacker.com, TokiPoki.com, BlogPaws and many other great companies, sites & individuals.  This years prizes are gearing up to be just as great!!! More info coming shortly.
We would love to have you join us for our event. The 2015 6th Annual SCIFIpawty will take place on March 28th from 11am EDT to 11pm EDT. Just sign into Twitter during the event, search for SCIFIpawty to see what is happening and join the fun. All we ask is that you keep it PG & use the hashtag #SCIFIpawty in your posts so you'll show up in the pawty stream.
Once again we will hab a costume contest, trivia questions (with prizes) and door prizes. However, this year we will be adding a charity auction, pawtograph room (auctioned autographs) and celebrity panels (more info about each of these will be coming shortly).
If you can help in any capacity (prize sponsor, Q&A during event, anything) please contact our event host @BorisKitty on Twitter, facebook or directly via email.
This year's event will agin be happening on facebook (but in a much smaller capacity) — for the whole party experience please join us on Twitter.
Please RSVP at in the comments below (just leave your @Twitter Name) or twtVite: URL TBD
Donation Page: https://www.firstgiving.com/fundraiser/human2/2015scifipawty
if you need ot donate via PayPal please go here: https://www.youcaring.com/SCIFIpawty2015